SOME OF MY POETRY



I love to write poetry. At least that is what I call it. Never having any formal education on the subject, I suppose it is more than likely free verse.
I don't care to write too much of a serious nature. I just enjoy writing about situations as I see them.
This is something I have done for many years and I thought putting them on my website and sharing them would be fun.
I hope you enjoy reading them as much as I enjoy writing them. *S*



INDEX








Member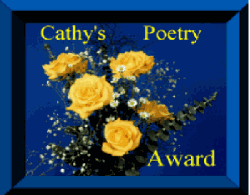 My first award for my poetry.Thank you Cathy.