My Adopted Cyber Baby


Sometimes in surfing the web I come across things that I consider cute and fun things to have. I came across this site to adopt a cyber baby and to break the monotony of working so much on the website I decided to do something that was fun.
Here she is. I named her Betsy after a doll I had when I was a little girl.She even has a birth cerfiticate. Hope you like her. She is really no trouble at all.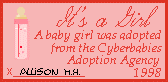 Betsy



Now she needs a few things to keep her company so if you would like to send her a cyber gift, feel free to do so. She is really not hard to please.